Merging libraries
PowerTunes allows you to merge the contents of entire libraries together into one. Select the "Merge Libraries" command from the Library menu, and you will be presented with this sheet that lets you configure your merge.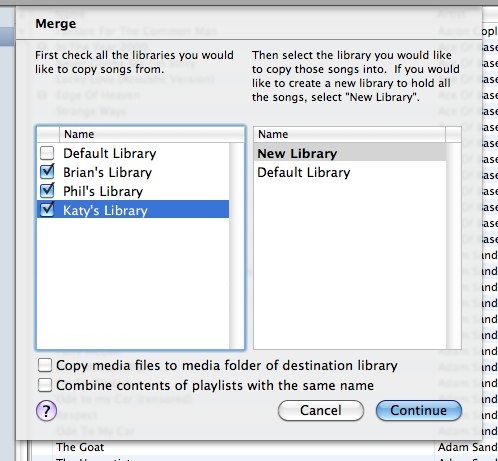 On the left side of the sheet, you can check the libraries that you wish to merge together. On the right side, you can either create a new library to hold the contents of the merged libraries, or choose an existing library. Clicking the "Continue" button will begin the merge process.
If you choose the "New Library" option, you will be given a chance to specify where to create the new library and what media folder it should use after clicking the "Continue" button. Creating a new library for your merge lets you experiment with merging while leaving your existing libraries untouched.
For each library being merged, PowerTunes will import all the tracks from that library into the merged library and recreate all the playlists from that library in the merged library. The only things that can't be copied over automatically are URL tracks (e.g. radio stations), podcasts (which can be copied manually), and PDFs/digital booklets. All the options such as duplicate handling and copying song options that apply to track/playlist copies also apply when doing a merge.
If the "Copy music files to media folder of destination library" checkbox is checked, then all the music and video files involved in the merge will be copied into the media folder of the destination library. You should check this option, for example, if you have music spread out among multiple media folders that you want to bring together all into a single media folder (as well as a single library). If the checkbox is unchecked, then all the files will be imported into the merged library, but the files will be referenced where they already are and new copies of the files will not be made.
If you check the "Combine contents of playlists with the same name" checkbox, then if more than one library involved in the merged has a playlist with a given name, then only one playlist with that name will be created in the merged library, and all the tracks in all the playlists with that name being merged will be combined into the one playlist in the merged library. If this option is not checked, then PowerTunes will recreate each playlist individually and keep their contents separate, so you may end up wih more than one playlist with the same name.