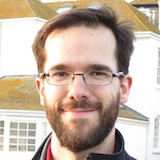 The programmer, CEO, janitor, webmaster, personal chef, and tech support personnel of Fat Cat Software.

Jezebel specializes in customer service.
Fat Cat Software is a one-man software company run by me, Brian Webster. I started out programming for the Mac all the way back in high school. After graduating college with a computer science degree, I worked at Alsoft, Inc. for several years, writing OS X software there. I have since started writing and selling my own software, and have been doing so full time since 2006.
I work out of beautiful San Jose, CA, where I live with my wife, Katy, and mascot/co-worker Jezebel.