Finding orphans
Normally, if you do all your music management through iTunes, the list of tracks that you see in your iTunes library will pretty much be the same as the list of files that are in your iTunes media folder. However, sometimes you can end up with "orphaned" files in your media folder that are no longer in your iTunes library. PowerTunes lets you track down these files and keep your iTunes media folder clear of unwanted files.
Select the library you'd like to clean and select "Find Orphans" command from the Library menu. PowerTunes will search the library's media folder and compare its contents to the files that are in the library itself. Any files that are present in the media folder but aren't in the library will be presented to you in a list. Note that only the library you have selected in PowerTunes is searched - if you have other libraries that use this same media folder, it's possible that some of the listed files are in one of those libraries, just not the one you're looking at at the moment.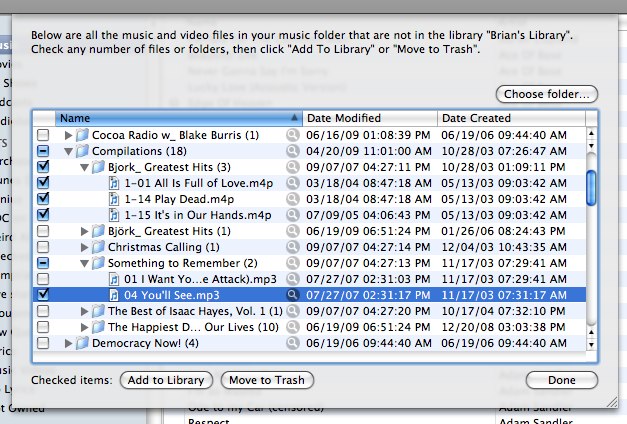 There are three ways to deal with these "orphaned" files: you can add them to your library, move them to the trash, or just leave them alone. First, click the checkboxes next to any number of folders or files to choose which files you'd like to work with (you can option-click any checkbox to check or uncheck ALL the items in the list). If you then click the "Add to Library" button, PowerTunes will add the tracks to the selected iTunes library, after which they will disappear from the list (since they are no longer orphaned). If you click the "Move to Trash" button, those files will be moved to the trash, which also removes them from the list. Note that if you check a folder and click "Move to Trash", PowerTunes will only move the files that you see in the list to the trash. Any other files which are in that folder but don't appear in the list (because they're in the iTunes library) will not be moved to the trash. You can also click the magnifying glass next to a file or folder to reveal its location in the Finder. When you are done adding/trashing files in the media folder, click the "Done" button to dismiss the sheet.
By default, PowerTunes will search the media folder associated with the selected library, but if you want to search a different folder for files to add to your library, you can click the "Choose Folder" button to choose a different folder to search.